Honeywell 6313 Space-Saver Cash Drawer (4 Bill / 5 Coin Slots)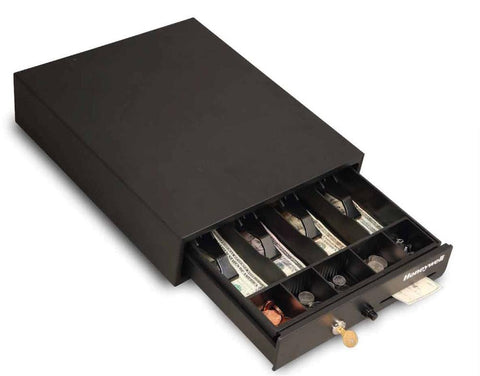 Honeywell 6313 Space-Saver Cash Drawer (4 Bill / 5 Coin Slots)
Honeywell's 6313 is a space saving cash drawer that is perfect for your cash management needs. It features a removable tray with 4 bill slots and 5 coin slots. This can be used in any retail store, convenience store or anywhere that accepts coin and cash. 
The outside of the Honeywell 6313 Space-Saver Cash Drawer is locked by a key lock with 2 keys included to unlock it. The outside is painted with a scratch-resistant powder coat finish. The one-touch button release allows the drawer to open quickly once unlocked. Another great feature is the front of the drawer has a cash/check drop slot for deposits into the drawer without having to open it each time. If you receive large bills such as $50.00's or $100.00's, you can slide them into the drop slot to keep them secure. Same if you receive checks that you want to keep secure. Honeywell includes a 1 year limited warranty with the 6313 model.
If you have any questions regarding the Honeywell 6313 Space-Saver Cash Drawer, please give us a call today at 800-207-2259.
Features:
Key locking (2 keys included).
One-touch button release.
Convenient drop slot on the front.
Removable tray.
4 Bill slots / 5 coin slots.
Scratch resistant powder coat finish.
1 year limited warranty.
Outside Dimensions: 3.60" H x 13.00" W x 16.10" D
Weight: 9.50 Pounds
Honeywell 6313 Space-Saver Cash Drawer (4 Bill / 5 Coin Slots)
---
Top