SafeandVaultStore ST-6 Modular Safe Deposit Boxes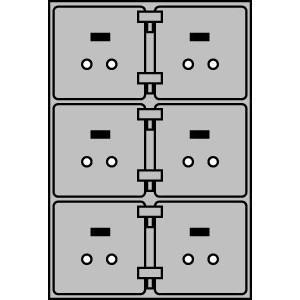 Availability :Usually Ships In 10-15 Business Days
Dimensions:
Outside: 16.00" H X 10.88" W X 24.00" D
Weight:

73

Burglar Rating: B-Rate Learn More
SafeandVaultStore ST-6 Modular Safe Deposit Boxes
The SafeandvaultStore ST-6 modular safe deposit boxes are an engineering marvel of safety deposit box security. The box is a black frame with stainless boxes with 1/2" of metal thickness in the door. It has security features that will keep valuables safe and protected.
The die cast aluminum door provides strength for the box. It has two recessed locks that are pick resistant and pry resistant. The metal in the locks is very strong and durable. It will also allow the keys to slip easily in and turn with little to no effort. One key is called a "guard key" and the other is a user key. Both keys are required to open the safe.
This safe has security features that will withstand a forced entry attempt. Features like special welded hinges to prevent crow bar attacks and an interlocking door jamb to prevent the door from being pried open. One often overlooked feature is the fact that the box is mountable in a configuration of your choice with any other safe deposit box.
Inside the ST-6 safe deposit boxes you will find a bond box. This bond box is made from sheet metal and is finished with a powder coating that helps keep it from rusting.
If you value peace of mind for your customers then consider the SafeandVaultStore ST-6 safe deposit boxes and order today.
Features:
Outside Dimensions: 16" H x 10.88" W x 24" D
Color: Black Frame with Stainless
Weight: 73 pounds
6 Openings 5" x 5"
SafeandVaultStore ST-6 Modular Safe Deposit Boxes
---
Top