SafeandVaultStore SDBAX-9 AX Series Safe Deposit Boxes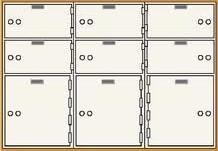 Availability :Usually Ships in 10-15 Business Days
Dimensions:
Outside: 22.25" H X 32.50" W X 24.00" D
Weight:

180

Burglar Rating: B-Rate Learn More
SafeandVaultStore SDBAX-9 AX Series Safe Deposit Boxes
The SafeandVaultStore SDBAX-9 was designed to offer the best functionality and ease of use without sacrificing security. This solid steel container has features that rival the best safe deposit boxes in use today. Financial institutions from all over the country trust the SDBAX-9 to provide comfort and security for their customers. They do it by using a product that is manufactured with attention to detail and security.
Key Lock
The SafeandVaultStore SDBAX-9 has two locks, one for a guard (1 key) and one for the user (2 keys). Each lock is chrome plated and pick resistant. Both locks have to be unlocked in order to open the outer door of the box.
Security
The 1/2" of solid steel protect any would be burglar from accessing the safe deposit box. These boxes are protected with steel from all sides. Each unit can be configured to meet the needs of any financial institution. The hinges on the outside are pry resistant and punch resistant. Typically these safe deposit boxes are designed to fit inside a larger bank vault for the best security possible. Other uses include hotels/motels to lock up their guests valuables.The SDBAX-9 was designed to be tamper resistant so unauthorized access is greatly reduced.
Bond Box
The inside bond box is a durable sheet metal box that is finished with a rust resistant enamel. This box is where all of the users personal contents are held. They provide an environment that is resistant to moisture and water to prevent rusting or damage to contents from occurring. They do not have locks on them as they are protected by the outer safe deposit box. They do provide peace of mind for the user in knowing their valuables are as protected as possible inside.
Features:
(9) Total openings: (6) 5" x 10" / (3) 10" x 10"
180 pounds
Outside Dimensions: 22.25" H x 32.50" W x 24" D
Color: Silver Frame with Stainless
SafeandVaultStore SDBAX-9 AX Series Safe Deposit Boxes
---
Top