SafeandVaultStore SDBAX-6 AX Series Safe Deposit Boxes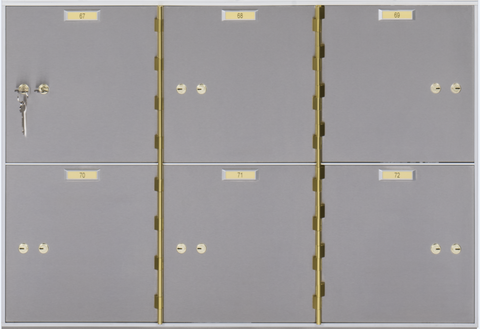 Availability :Usually Ships In 7-10 Business Days
Dimensions:
Outside: 22.25" H X 32.50" W X 24.00" D
Weight:

160

Burglar Rating: B-Rate Learn More
SafeandVaultStore SDBAX-6 AX Series Safe Deposit Boxes
The SafeandVaultStore SDBAX-6 safe deposit boxes are a great solution for deposit security needs. These containers are made from solid steel and have interlocking door jambs, perfect for punch and pick resistance. They can be stacked in a configuration of your choosing making these some of the best safe deposit boxes in use today.
Outer Security
The outer box on the SDBAX-6 is made from 1/2" solid steel and contains hinges that cannot be tampered with. The locks on the outer door are punch and pick resistant and they provide that extra security needed to protect valuables. 
Key Lock
The locks are cylinder key locks that are pick resistant. The keys are unique and durable enough to last a long time. Both locks are designed to be unlocked for the outer door to open. Typically one key is meant for an employee, and the other key is meant for the user. Both have to be present to open the door. The SDBAX-6 comes with (1) guard key and (2) user keys for each box.
Bond Box
The inside bond box of the SDBAX-6 is where the contents are kept. They are made from solid sheet metal and finished with an enamel that protects against rust and wear and tear of the box. They are not locked and rely on the security of the safe deposit outer door. These boxes will safely and securely hold contents in a weather proof environment for decades to come. You can rest assured that valuables of all kinds will be easily stored and peace of mind will keep your customers/guests happy.
Features:
(6) 10" x 10" Openings
160 pounds
Outside Dimensions: 22.25" H x 32.50" W x 24" D
Color: Silver Frame with Stainless
SafeandVaultStore SDBAX-6 AX Series Safe Deposit Boxes
---
Top